I live near Somerville's Davis Square. Three or four times a week I mount my bicycle and ride to the Somerville Community Path, near where it intersects Davis Square. I follow the Path past the Alewife T-stop, past the dog park and on to the Minuteman Bikeway with a destination of either Lexington (16 miles round trip) or Bedford (24 miles.) 
When I reach my destination I turn around and ride home. 
And when I arrive home, I am somehow cleaner, even if sweaty.
Cycling with an Audio Input
At the beginning of every ride I must address the same quandary: should I listen to the sounds of nature, music, or an audiobook.
Sometimes I will choose the sounds of nature but usually these more subtle sounds are insufficient to quell my racing thoughts. My mind requires a more aggressive audio track so as to keep me entertained.
If I choose R&B or rock (Grateful Dead, Joe Cocker, Tina Turner, B.B. King) then I will ride faster and I may even dance or conduct while cycling. But if I am in a more subdued mood or it is early in the morning, I may choose to listen to Leonard Cohen, Max Richter, Philip Glass, or Hans Zimmer. 
If I am already immersed in my audiobook, then of course that would be my first choice. But if the audiobook is non-fiction which contains logical break-points or the fiction is less compelling, then I will default to music.
Unexpected Human Encounters
I am not young, nor am I a fast cyclist. Thus it is not uncommon that a peloton of riders will whiz past me. When this happens my competitive instincts surface and I will attach myself to the rear of the peloton for as long as I can keep pace.
Very infrequently I may introduce myself to another cyclist during the ride. When this happens, I disconnect my audio entertainment and engage in a cycling conversation.
But mostly I cycle alone.
The Visuals
So why do I cycle and why do I always take the same route?
Sometimes I decide to go for a ride as I want to know what will happen next in my audiobook and I do not permit myself to listen to it unless I am either walking or cycling.
But most of the time, I ride because I enjoy the cycling ambiance and its effect on my emotional well-being.
I love the rush of the foliage colors as they race toward me.

I love the seasonal variation in color, which is both predictable yet always unexpectedly invigorating; especially the muted yet brilliant colors of autumn, colors which always fade away too soon. Always much too soon.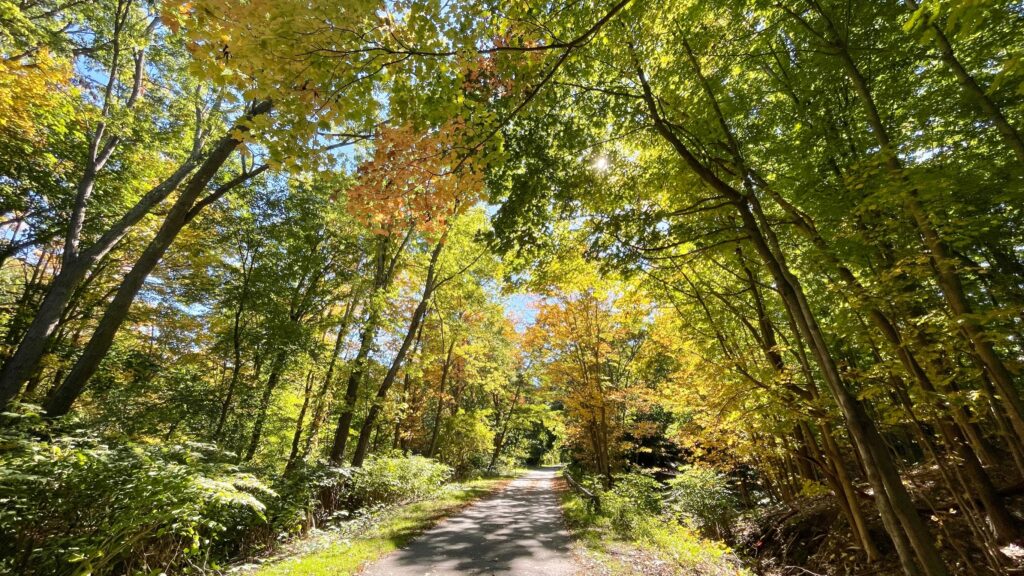 I love the summer morning sunlight when it filters through the leaves and ignites a fluorescent green glow in the forest canopy.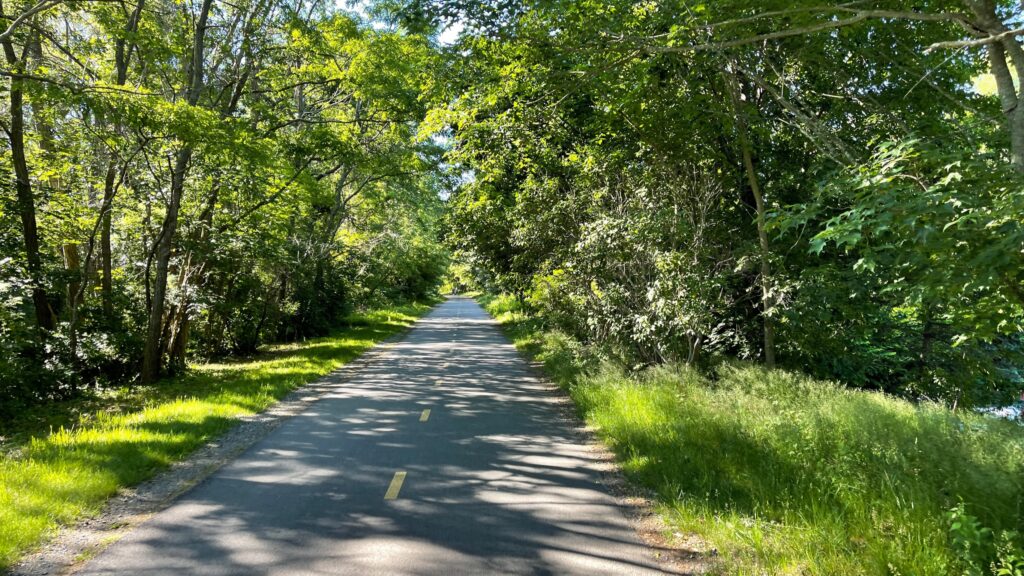 I love cycling soon after it snows, when the purest white blanket envelops and silences the world.
I love experiencing the diurnal variations in the scenery; the lifting of the morning mist over a field at sunrise, the brilliance of the mid-day sun, and the golden-orange glow in the treetops at sunset.

I love beginning a ride in the blackness of the pre-dawn hours, when there is only my headlight to illuminate my path and all else is black: a tunnel of light. Initially it is just me, the rabbits and deer. Slowly, I am forced to share my path with the early morning runners and while the animals recede into the forest. Eventually, homo sapiens reclaim the path, and life resumes its usual bustle.
Cycling as Meditation
While every ride is in some ways unique, all the rides have the same impact on me – they calm my mind and cleanse my soul. 
Recently I learned that exposure to greenery:
"…was associated with reduced risk of stress… psychological distress, depressive symptoms, clinical anxiety and depression…" 
While it was nice to learn that the objective data reaffirms my subjective experience, the absence of objective data would not have led me to alter my cycling habits.
Maybe cycling is my form of meditation?
Repetition for Health
But why do I always choose the same cycling route? 
Cycling on a dedicated bike path markedly reduces one's risk of an untoward interaction with a car when compared to cycling alongside traffic, thus it is inherently less stressful. Nevertheless, cycling on a bike path still requires vigilance as it markedly increases the risk of an adverse interaction with another cyclist or a pedestrian, especially during weekend morning (runners), the morning commute to work (walkers), and shortly after work when all the dog parents and human parents take their charges for a stroll. 
But why do I always choose to ride the Somerville Community Path – Minuteman Bikeway? 
I have come to believe that I repeatedly choose the same route partly out of laziness, the Somerville Community Path is readily accessible from the front door of my home. 
But mostly I choose the Somerville Community Path – Minuteman Bikeway as I appreciate the certainty of knowing that I will feel better when I arrive home.
Hayward Zwerling
reposted: 13 July 2023
Addendum: minor editorial revisions 8/6/2023
A music video of this ride is posted at: Bedford to Boston by Bike